Did you know that over 55% of major global brands are using artificial intelligence (AI) tools to create content? That's according to a study by digital asset management platform, Bynder, who works with global market-leaders like Five Guys, Puma and Spotify to name just a few. They concluded that:
     

54% of content teams are using AI to create first drafts

     

43% for content optimisation

     

42% for checking spelling and grammar

     

38% for paraphrasing and summarisation

     

30% for repurposing content

     

27% for creating tone of voice docs

     

25% to carry out translation tasks. 
And why wouldn't you make the most of AI's advances in removing the headache of some of the most tedious and time-consuming marketing tasks?
Casted, a popular podcasting tool, recently published a study called "The State of the Content Marketer Report." From responses provided by 100 B2B US content marketers, the report delved into content marketers' tactics, tools, strategies, and growth opportunities. It revealed that B2B content marketers are spending around 33 hours per week (that's approx. 82% of their working week) creating content for social media, newsletters, blogs, webinars, whitepapers, and podcasts. 
That's a lot of time and effort, alongside the myriad of other tasks marketers undertake.
That's why our team at theLEAP recently experimented with five market-leading AI platforms. Here, we reveal our findings, along with our recommendations.
AI Content Tools: The contenders
Which AI should you be adding to your tech stack? To find out, we tested: 
So, which would come out on top? The aim of our experiment was to build a blog from scratch using only the power of AI. We provided each of the above platforms with no more than an article title, and eagerly awaited the results from each. 
The low down
Of course, we didn't need to wait long. Before we'd even managed to fill the kettle up, the drafts were back – the coffee would have to wait!  
Let's look at them all in turn. 
ChatGPT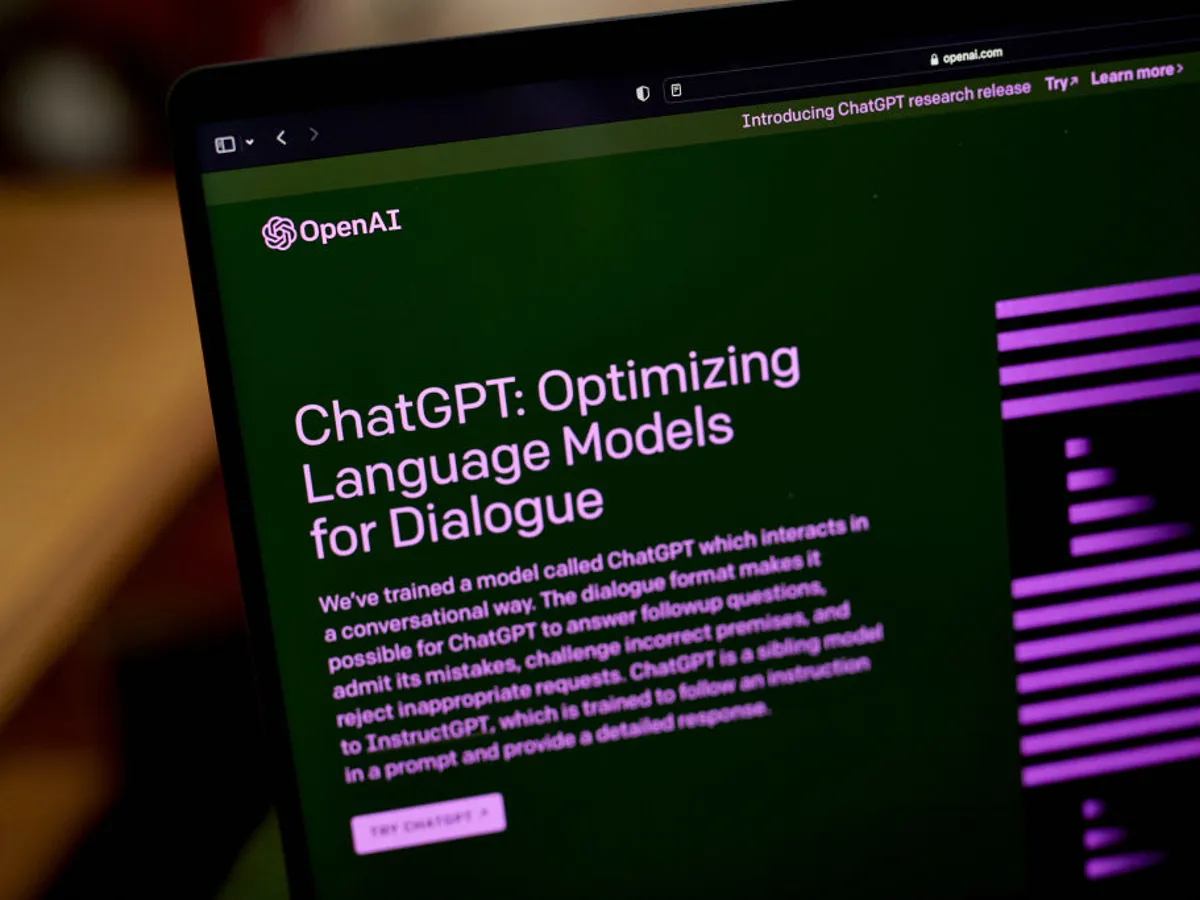 If you've not heard of ChatGPT yet, where've you been? It's a language chatbot developed by OpenAi and it's been making headlines since its launch in November 2022. There's a free version available and even the plus version is affordable at $20 per month. Users can ask it to generate content ideas and write content for different formats, in different styles and of varying lengths. 
On paper it's pretty good. But how did it do our task? 
Well firstly, it was super-easy to use. We simply asked it to write a blog, typed in our title and off it went to work. However, the content we got in response to our request sounded very generic. It lacked detail and personality. It was perhaps what you'd expect from AI. Sure, it had created a blog for us on the title we provided, but it lacked the creativity you'd get from a human author.
Our Account Executive, Georgia, commented, "It's a great place to start if you're thinking of trying AI to support content creation, especially as they offer a free version."  
However, the bottom line is you'll probably need to enhance your first ChatGPT draft with some real-life TLC and personality. 
Writer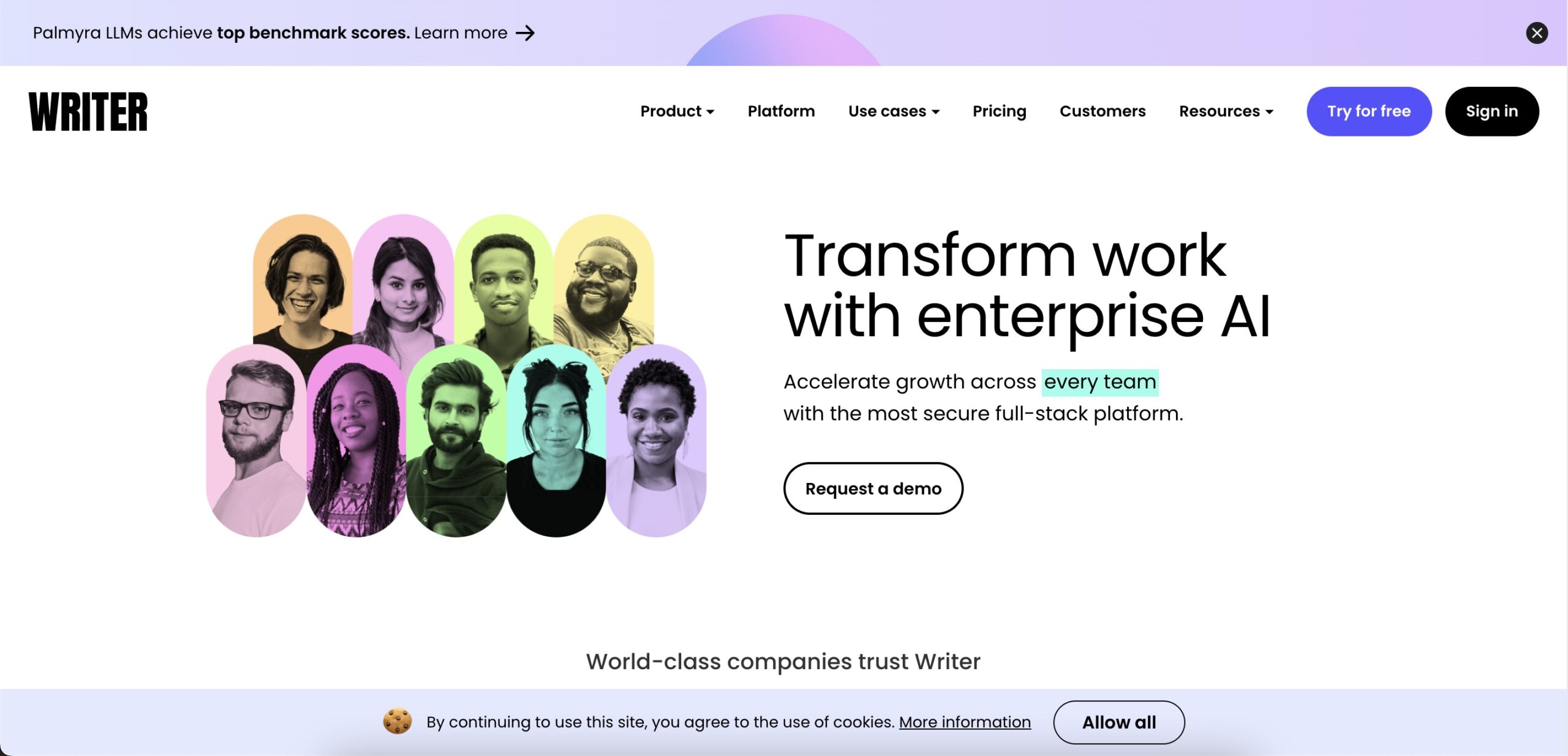 Maybe a little lesser known than ChatGPT, is Writer, a company that's been using AI to help businesses write faster and better since receiving $5m in seed funding in August 2020. 
Writer's experienced significant growth and is used by brands like Deloitte, Vistaprint and UnitedHealthcare. It's coined as a good option if you want to incorporate SEO optimisation from the off. Its website also claims that Writer will maximise productivity and creativity, and consistently delivers high-quality output and accurate insights that reflect your brand, knowledge, and rules. All a great start, that hadn't yet put us off the fact that there's no free option and costs $18 per month.
But how would it live up to our task?
Again, Writer couldn't have been easier to use. Our Director, Nici, shared "I really like Writer! I created a high-quality blog in minutes that was optimised for specific keywords. I'd recommend giving it a go!"
For best results, and for more personalised copy, you'll need to add in additional detail like quotes and statistics. But Writer delivered a decent blog and provided us with a great starting point that undoubtedly saved us time. 
Jasper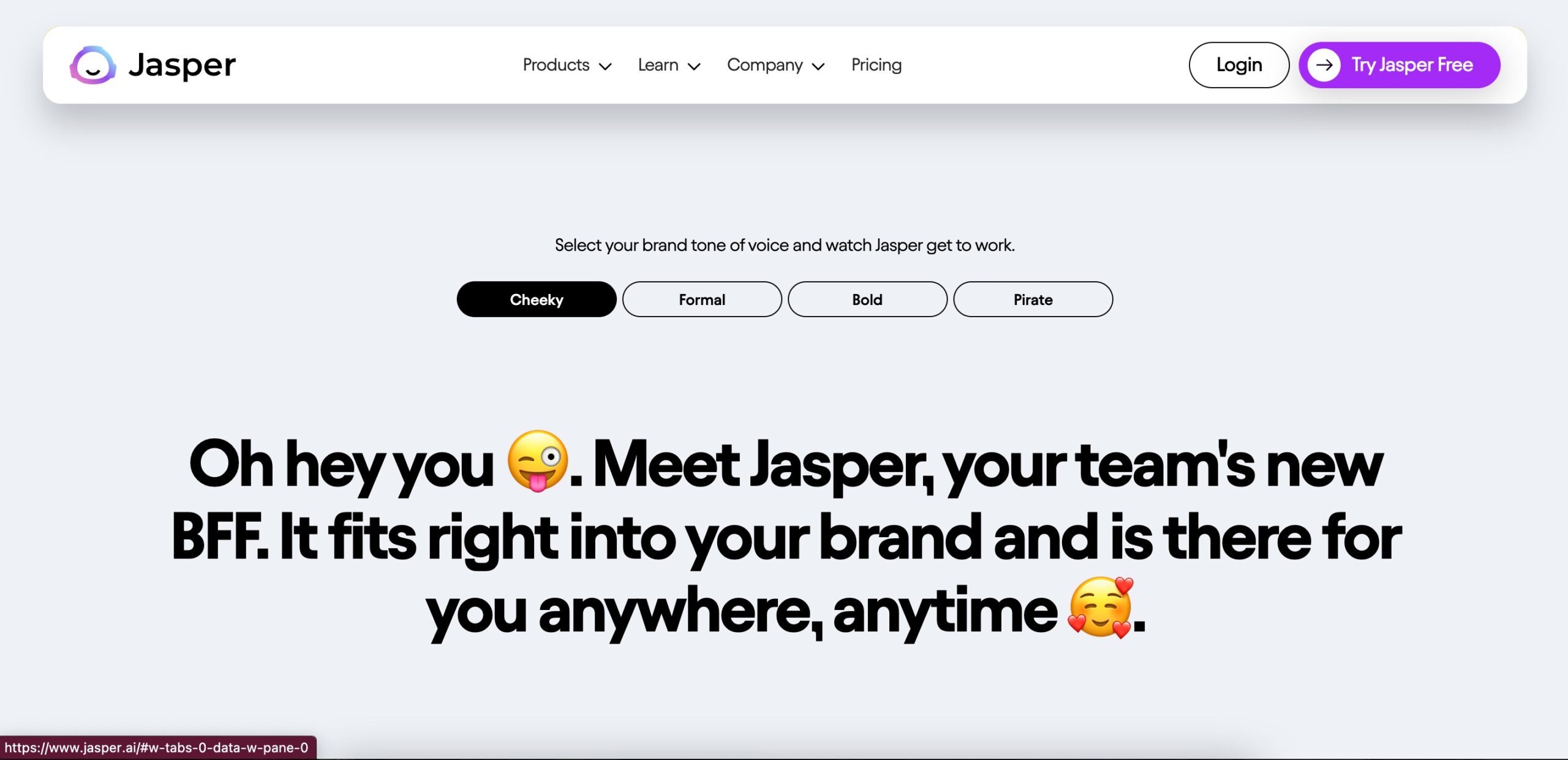 Content AI platform, Jasper, is becoming more and more popular. It claims to reduce time spent on first drafts by 80%, increase content downloads by 40% and result in a 3.5x return on investment for those using it for their content creation. It's been around now since early 2021, predating ChatGPT, but arriving slightly later than the other platforms in our test.
We've a bit of a history with Jasper. We started our own AI content creation journey with this tool and have enjoyed using it. It's not the cheapest option at $39 per month, but you are getting unique features like structured workflow and existing 'recipes.' Jasper also learns tone of voice and has the additional benefit of a supportive community.
So how would it fair in our experiment? 
In our experience, Jasper takes a little getting used to. Our Marketing Exec, Rachel Nguyen said "I really like Jasper. I found it took some practise to get going with it, but the prompts were really useful." 
The community aspect is possibly the stand-out feature for Jasper and something we haven't found with other content AI. If you want ongoing help and guidance with your content, it's definitely worth a look.
Writesonic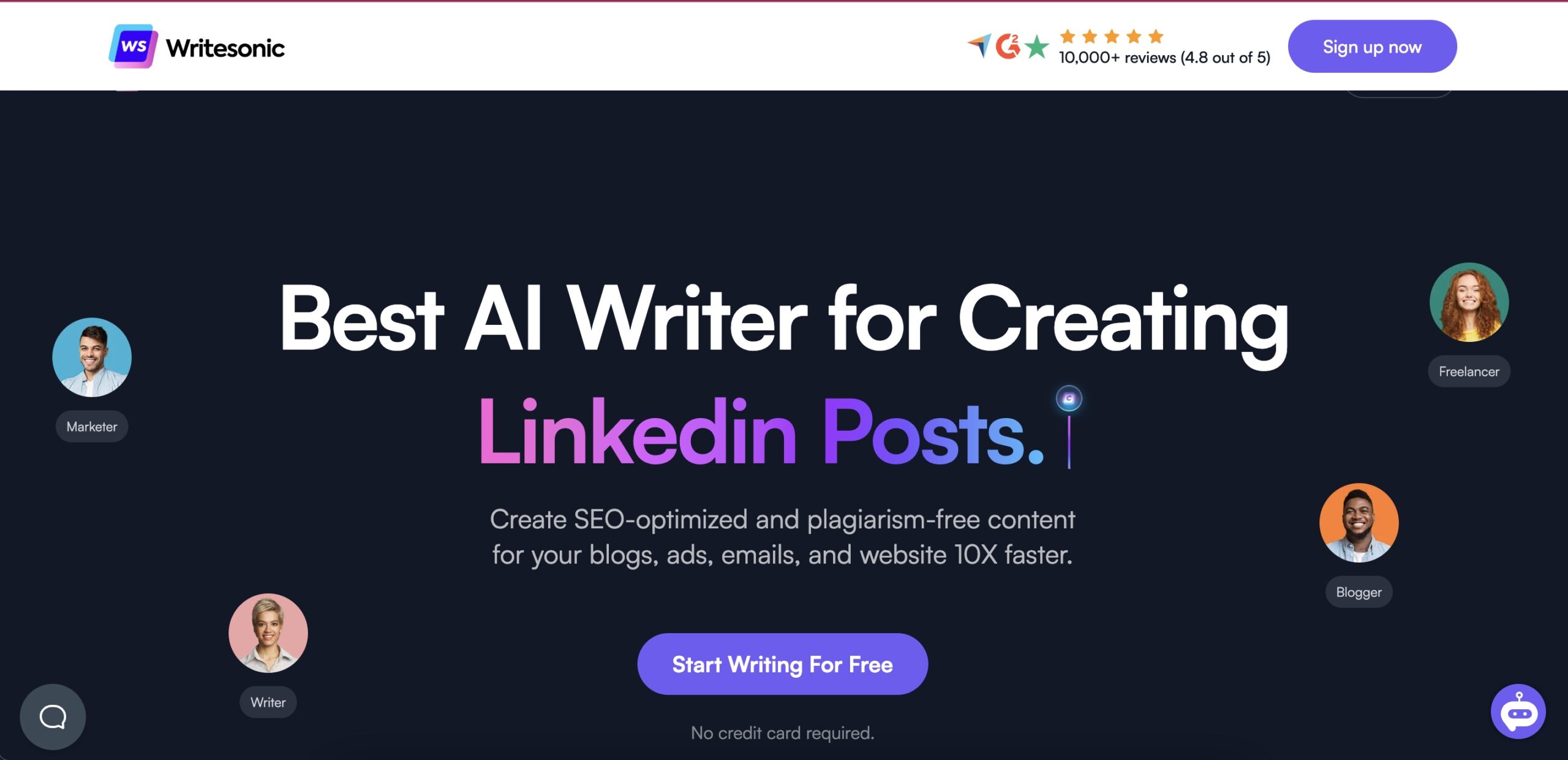 Next up is Writesonic. Like Writer it's one of the longest standing content AI platforms, having been founded in October 2020. A bonus of Writesonic is that, unlike ChatGPT, it's able to provide real-time results based on real-time Google information. 
It's not free, but prices start from $12.67 a month, so lower than some other competitors. It's marketed as a tool that can do far more than just copywriting. With Writesonic, you can even build your own chatbot!
Would it be a stand-out contender in our test?
Writesonic created content at lightning speed. It's able to leverage existing content and can optimise for SEO. It also easily learns your tone of voice.
Georgia was really impressed with Writesonic. She said "The fact you can reference blogs you like and use them as the basis of your own makes life so much easier. This is well worth a try!"
Copy.AI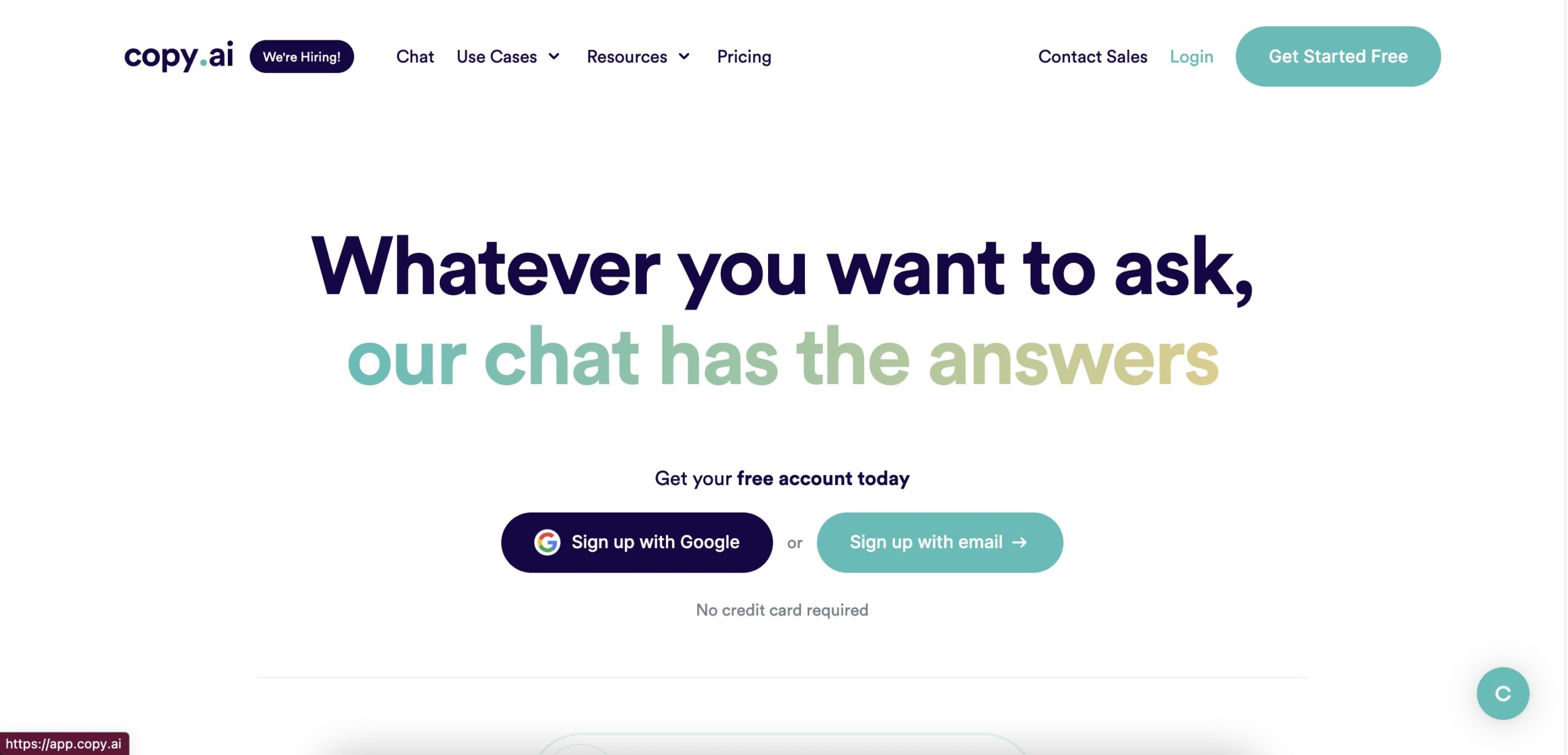 The final platform we tried and tested was Copy.AI. It's another earlier program that like Writer and Writesonic appeared in 2020. Within just two days of release an impressive 2,000+ users had created accounts. 
Copy.AI is described as a really comprehensive solution for producing anything from blogs to ad copy and is used by giants like Ogilvy, Microsoft, ebay, and Nestle. It must be good, right?
Prices are similar to Jasper's starting at $36 per month. It has a simple-to-use, chat-style interface and quickly picks up your tone of voice. Copy.AI also features a wide variety of helpful prompts making the user experience very straight forward.
Our verdict on its performance? 
Again, Copy.AI quickly provided us with content based on the title we gave it. The chat-type interface was good but, like ChatGPT, it'll take some experimenting with before you get the most out of it. Nici explained "Copy.AI's definitely a time saver but like most of the other platforms, will require editing and human input to achieve a high-quality blog that's ready for publishing."
The bottom line
At the end of our experiment, we were most impressed with Writer and Writesonic. Both offered a great user experience and produced good-quality first drafts.
While we firmly believe that the perfect marketing team comprises a blend of both human beings (to maximise creation, innovation, and real-life relationships) and artificial intelligence, the latter most definitely has a place in making our lives easier when it comes to content creation.  
The overriding benefit of all the platforms we tested is speed. And yes, faster than you can make a brew, the content AI featured (and likely all the other content generating AI that we haven't covered in this post) will provide you with a blog. 
But the issue is whether you're getting a high-performing, end-product using AI alone. Chances are, you're not. And that's why all of these platforms are at the centre of an endless 'AI for content production' debate. On the one hand, they'll almost certainly save time and boost productivity – they can produce copy at a staggering rate! But the downside is, they're no match for human emotion, experience, or wisdom…not just yet anyway!
 If you want help producing your own truly unique, compelling content that avoids issues with context or bias, our experts can help. Or for advice on striking the perfect balance between marketing AI and your human team, why not get in touch?